Don't Get Caught Holding the Bill!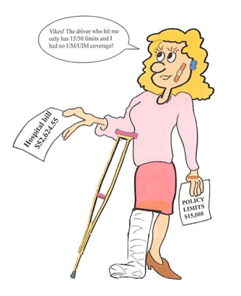 Many people do not understand the importance of uninsured and underinsured motorist (UM/UIM) insurance coverage until it is too late.  These two types of coverage are incredibly important to protect you and your family.  Additionally, the cost of UM/UIM coverage is relatively inexpensive given the protection it provides.
A motorist is "uninsured" when he or she does not have the minimum auto insurance coverage required by Arizona law.  A motorist is "underinsured" when his or her policy limits are less than the total damages for bodily injury or death resulting from the collision.  Having a UM/UIM policy protects you in a collision with someone who either does not have insurance or has insufficient coverage for all the damages you incur.
The typical UM/UIM policy will cover expenses for which the other driver would be responsible, including medical bills, lost wages, pain and suffering, and a rental car.  Although most UM/UIM policies do not cover property damage, this coverage can sometimes be added depending on the insurance company issuing the policy.
In Arizona, drivers need only carry a minimum of 15,000/30,000 liability insurance, meaning up to $15,000 bodily injury coverage for each person, up to a total of $30,000 per accident.  These low-limit policies can quickly be exhausted with even moderate injuries.  Imagine you are one of three people injured in an auto accident, with each person incurring costs for treatment of injuries of $15,000.  If the driver at fault has no coverage, your insurer would pay you $15,000 for your damages under the UM policy; if the driver has only the minimum coverage allowed by Arizona law, your insurer would pay you $5,000 under your UIM policy – the difference between the amount paid by the at-fault driver's insurer and your damages.  Having to cover $5,000 – $15,000 of damages is bad enough; imagine having to cover hundreds of thousands of dollars of medical bills.
Arizona insurance companies are required to offer UM/UIM coverage, but many consumers decline it.  According to Ben Montgomery, owner of Montgomery Insurance, the extra cost of carrying UM/UIM coverage is typically an 8-10% premium increase.  The extra protection UM/UIM coverage provides goes a long way if the policyholder is injured by a motorist with insufficient insurance coverage – a circumstance far too common.
In 2011, the Insurance Research Council estimated that about one in seven U.S. drivers are uninsured.  Even more people have insurance that is insufficient to cover the damages arising from serious physical injuries.  Inadequate insurance is particularly common in Southern Arizona, where some estimate that nearly 50% of drivers are either uninsured or underinsured.  Purchasing UM/UIM coverage is a way to make sure that you are protected.
UM/UIM coverage typically mirrors your liability policy limits.  For instance, a person with liability coverage of $100,000 per person and $300,000 per accident would typically also have UM/UIM coverage of $100,000 per person and $300,000 per accident.  Some policies allow the policyholder to get coverage that differs from the policy's liability limits.  According to Montgomery, many insurance companies offer policy limits up to $500,000 per person and $500,000 per accident.  The policyholder will typically have to sign a waiver if they opt to receive less UM/UIM coverage than their liability policy limit.
The persons covered under UM/UIM policies varies depending on the policy, but these policies typically only cover those who were in the vehicle at the time of the collision.
UM/UIM policies are an inexpensive way to protect you and your family if any of you are involved in a collision with someone who has inadequate insurance.  Do not wait until this happens before checking your insurance policy.  If you do not have UM/UIM coverage, talk to your insurance agent about this coverage and the benefits available to you – consider getting it now.